Kim Davis and the
long road to equality
. Starting over
when you least expect it
. And surprising bellybutton facts on the
latest episode
of Call Your Girlfriend. (PSA: The podcast is going on hiatus for a few weeks after this episode so we can make some tech upgrades.) Plus, I'm interviewed in the article about the
economics of freelance writing
.
---
I'm reading:
What's in
refugees' bags
? "
All in
."
Supportive male partners
and
equality-minded dads
. Ignore your
feelings
! The radical politics of
The Golden Girls
.
Dowagers of color
. This war between
two ice cream vendors
is less depressing than
the war on women
.
"You promised me you wouldn't kill me."
The art of
omission
. When the 9/11
dust settles
. Why the rich
love Burning Man
.
L.A. is nice
. A vintage shopper's lament.
Beware of
personality tests
.
Helicopter children
and
parents of goths
, lol.
Dolphins
and
water bears
. Rob Delaney's
drunk history
, a very detailed history of
Franzia
, and the case for
good tequila
. Roxane Gay
sets Erica Jong straight
. "How do I
become the protagonist
of a story?" The passion of
Ellen Willis
.
Grace Jones
pulls no punches, and
Grimes
produces herself. A prescription for
more black doctors
. How do we get more people to
care about the environment
? Thank an
unapologetic fat woman
today! And, relevant to all of our interests:
How to be a better online reader
.
---
Pie chart:
The Over It Pie.
View the pie archive here.
---
DVR:
A lecture and reading list from
Sun Ra
. NASA's 1970s
graphic standards
. In praise of
uncomfortable conversations
. Listen to
En Vogue
sing an acceptance speech.
Llanfairpwllgwyngyllgogerychwyrndrobwllllantysiliogogogoch
.
---
GIFspiration:
Stay gold.
---
I endorse:
Not smiling if you don't feel like it. Let them Photoshop it in later. (Related.)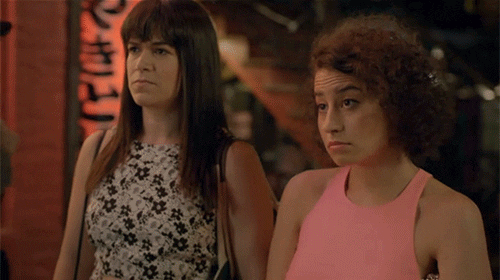 ---
Live!
Sept 15, Los Angeles:
I'll be talking to Rachel Hills about her new book,
The Sex Myth
, at Pages bookstore in Manhattan Beach.
Details here.
Sept 28, online:
I'm doing a live ask-me-anything chat for ProductHunt.
Sign up for a reminder
to submit your questions.
---
Testimonials:
"Ann, where are you? A whiskey-bearing St. Bernard is en route. Please attach the Friday newsletter to his collar and pour yourself a triple." -Lisa Abbott. FYI, it's always ok to send whiskey, even when I'm sending this on time.

"Lots of scam notices to appear in court but still no @annfriedman newsletter 😿. Pray the tech troubles get sorted soon." -Evren Kiefer. I'm working on it! Changes coming soon.
"Whoa! @annfriedman it's SUNDAY of a three-day weekend. Don't give me a cardiac event." -Monica Carmean. Sorry to make you choose between a Labor Day bbq and staying in to read the newsletter. Hope you chose the bbq.

"why does your newsletter always arrive before bedtime? #timedifferenceproblems" -Sarah Smyth. This is inspiration to write a future newsletter in the style of Goodnight, Moon: "Goodnight, thinkpiece. Goodnight, trend story. Goodnight, GIF."
---
This newsletter has resting bitch face.
Forward it to someone who has never asked you if everything's ok.
subscribe
|
archive