2014: The Year Everyone (Finally) Started Talking About Sexual Assault
- NYmag.com
Finally.
Episode 15: Origin story - Call Your Girlfriend
On the podcast, we tell you how it all began and tackle reader questions.
---
I'm reading:
Good White People
. Where the danger begins.
The day 43 Mexican students
went missing
. NAFTA is
making us fat
. The truth about
your produce
. Migrant
labor
in the UAE.
What
North Koreans eat
and
find funny
. The CIA's architects of torture. A Muslim's display of Christmas robolights.
I love
fact-checkers
. The power of
headlines
. How to
build a newsroom
, or
implode one
. Stop
denying the pay gap
exists. Bosslady
lessons
from Grimes. Two weeks on
bulletproof coffee
.
Garbage
and
shitpics
. The
war for eyeballs
.
Diabetics
: the original
self-quantifiers
. How
prisons are failing
transgender inmates. Life with
12 female ultimate fighters
. The deluge that
won't end the drought
. How much does
being a Lyft driver
really pay? The life and times of a
modern-day bookie
. The first
cyberfeminists
.
Yahoo
is a real mess. How
cults
work. "It's like
showers of sparkles
." The intimacy of
group chat
. The ethics of the
Sony hack
. Obama's
deportation
mill. Give
this woman
a gossip site.
How to
get rejected
. How to get to '
no
.' "I don't do Kwaanza."
Courting controversy
as a PR strategy. The
giving conundrum
.
Nicki Minaj
is a treasure.
Capote
on the art of fiction. When
goths grow up
. Where college grads are
moving
. Boy
I'm bakin'
.
---
DVR:
Taco truck
confessions
.
Azealia
! Bill Nye explains
evolution with emoji
.
Springsteen
in '78.
Drunk J.Crew
. I saw
Selma
and it was incredible.
---
GIFspiration: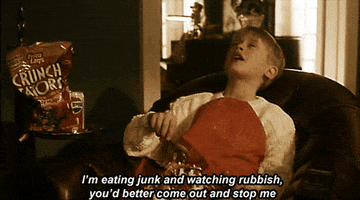 This is the most accurate holiday scene of all time.
Bonus: The 12 Days of GIFmas, courtesy of the Smithsonian.
---
I endorse:
This pie zine
, by Muriel Vega and featuring a pie chart by yours truly. A mere $10. All proceeds benefit the Atlanta Community Food Bank.
---
Testimonials:
"I can't deal with how awesome the @annfriedman weekly is this week. I have so much work left to do that I have to ban myself from it for now." -Jane Ruffino. I applaud your self-control!

"I just clicked every link in @annfriedman's 'Gifts that I endorse" section of this week's newsletter. I couldn't help myself." -Scott Burau. Hit up Jane for some self-control tips, Scott.
"You are 100% getting me through my new job's 80 hour workweeks that mean I no longer have enough time awake to read the whole internet." -Liz Chen. I am here to humbly serve the over-worked and under-internetted.
"Your email is the best part of my week, unless my cat does this thing where he falls asleep with both paws over his eyes and looks simultaneously tuckered out and exasperated." -Kevin Simowitz. I am not a cat person, yet I am flattered.

"Highlight of my (hungover) Friday." -Jayme. The holiday party circuit is brutal.

And thanks to Amber Van Natten and Megan Garner for tweeting their testimonials in the form of a Pocket-enabled infographic.
---
Service announcement:
Because I am a total maniac, this is *not* the last newsletter of the year. I'll send a special end-of-2014 edition next week.
---
All this newsletter wants for Christmas is you.
Forward it to oooooooooh baaaay-beee.
--->> <<---
--->>
annfriedman.com/weekly
<<---
--->> <<---
www
|
twitter
|
facebook
|
email