Welcome to
#aznbooks2017
, the monthly journal where I will be tracking my attempt to read only books by Asian authors in 2017.
You can read more about the project here
and follow updates in real time by following the
#aznbooks2017
hashtag on Twitter and Instagram, and following me on
Goodreads
.
If you like this newsletter and you value diverse media, please subscribe, and tell your friends to do so as well!
---
For reasons that will become very clear, very soon, I went on a
Ruth Ozeki
deep dive this month and read everything she's ever written. I also watched her films and read/listened to a zillion interviews with her. It was intense, and let me just say: If you take a two-week bender into someone else's brain, chances are high you'll start dreaming in their themes. This is what happened to me. It was a little scary.
That being said, it was an amazing chance to read really deeply, which I had been craving after how erratic my reading was
last month
. I'll quickly run through the Ozeki books, and then share the others I read (including a couple of --
gasp
-- non-Asian authors!
---
My Year of Meats, Ruth Ozeki
This was Ozeki's first novel, and it was my first audio book this year! I downloaded this while I was in New York because I wanted something to entertain me on my long bus ride back to D.C. I should also mention that I was extremely ill that weekend. While that wouldn't normally be an issue, this time it was, because
My Year of Meats
is a corporeally upsetting read. Er, I mean, listen.
Read this if you are interested in mixed race identity, Japan, factory farming, vegetarianism, or stories about infertility.
All Over Creation, Ruth Ozeki
All Over Creation
very much felt like a sister to
My Year of Meats
. Both are rooted in deep reporting and true facts about the food industry. I think this comes directly from Ozeki's experience in documentary film making. I suspect she's a bit of a foodie, also. I particularly enjoyed this one for its fleeting references to Hawaii (the main character lives there).
The Face: A Time Code, Ruth Ozeki
This was a super short read -- I finished it in an afternoon. The premise here is that she sat in front of a mirror for three hours and wrote about what it was like. The result was a deep meditation on the legacy you carry in your face, how your parents look out at the world through you, and how important eye cream is. (Seriously if you're not using eye cream what are you doing??
I recommend this
.)
A Tale for the Time Being, Ruth Ozeki
This is Ozeki's most recent book, but it's the first one of hers that I read. Also, I didn't read it this month, I read it back in 2015. But I wanted to include just so you have a complete retrospective of her work. It's funny reading her last book first, because
Time Being
is far more surrealist than her other books were.
Having read this first, I went into her other books expecting time travel and surreal half fictions, and that is not exactly what I got.
If
All Over Creation
and
My Year of Meats
were documentaries in novel form,
Time Being
is like...time-travel-turned-memoir in novel form.
While
Time Being
is certainly a departure in style from her earlier work, it still very much functions within the themes she is always playing with: transnational mixed race identity, the blurring of fact and fiction, the power of young women, and the deep effects that macro-level events can have on the individual.
Fun fact: Ozeki actually had this book nearly complete when the 2011 earthquake and tsunami hit in Japan. At that point, she decided to completely rework her novel and add herself and her husband in as characters.
OK, that's it for Ruth. It was delightful. And #watchthisspace for the fruits of my deep dive because it's about to be LIT. Pun very much intended.
---
Now for the other books. I read one other #aznbook and then two #notaznbooks.
The Border of Paradise, Esme Weijun Wang
I loved this book because it took me places I DID NOT EXPECT TO GO.
Without spoiling too much of the plot, I'll just say this: This book was an amazing meditation on that horrible moment when you see yourself through other people's eyes, and realize how abnormal you actually are. That's true whether you're an immigrant, or mentally ill, or in any other marginalized group. Wang masterfully navigated that turn in a way I didn't see coming at all, and this book left me feeling really damn sad. But like, thoughtful.
PS: Listen to my conversation with Esme on my podcast, The Ladycast.
**non #aznbooks**
Ask For It: How Women Can Use the Power of Negotiation to Get What They Really Want, Linda Babcock and Sara Laschever
I downloaded this at the recommendation of a very smart colleague who re-reads this book every time she goes through a salary negotiation. I highly recommend for anyone (man or woman, but especially woman) who anticipates going through a negotiation session at anytime in their life. That's everyone. Good, glad we agree here.
South and West: From a Notebook, Joan Didion
I pre-ordered this because I was so excited about it, but hot take: maybe notebooks should stay notebooks. Idk, just a suggestion. I was so excited to get the chance to see inside Didion's notebook, but I think the cognitive dissonance of seeing JOAN DIDION'S WORDS in TYPE, and having those words not really make a whole lot of sense (because it's a NOTEBOOK), was too much for me. If you're gonna publish a legend's notebook, I suggest you photocopy the thing so we can see the handwriting.
South and West
felt like a letdown.
---
Phew! Lotta books this month!
This week, I'm reading
Lucky Boy, by Shanthi Sekaran
. I'll have a full report for you next month.
Happy reading, y'all!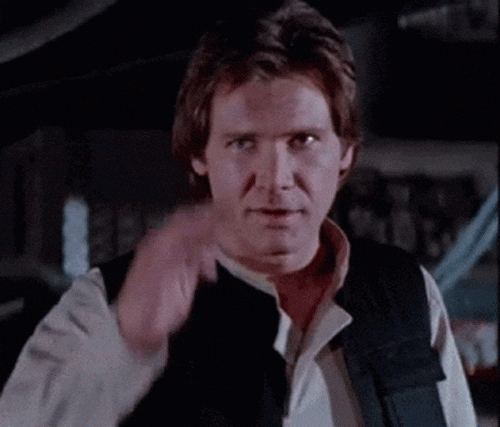 (also i discovered 1970s harrison ford this month. god bless us, every one.)