@ S.P.A.C.E

SORCELLERIE MADONNA NOIR on
JULY 30Th 2016 6pm -8pm;-
Produced and presented by CocoriteHouse/"JabJab Produktions" Drums, Poetry, Steelpan, Live Art. with artist Junior Elias Andrews -
The second part in the trilogy "The ‪#‎Obeah‬ in We – Awakening the divinity in our blood" will be live
$20 in advance $25 at the door check event listing for details
Reception served promptly at 6pm doors open 5.30pm
Post navigation
---
Artist Calls Opportunities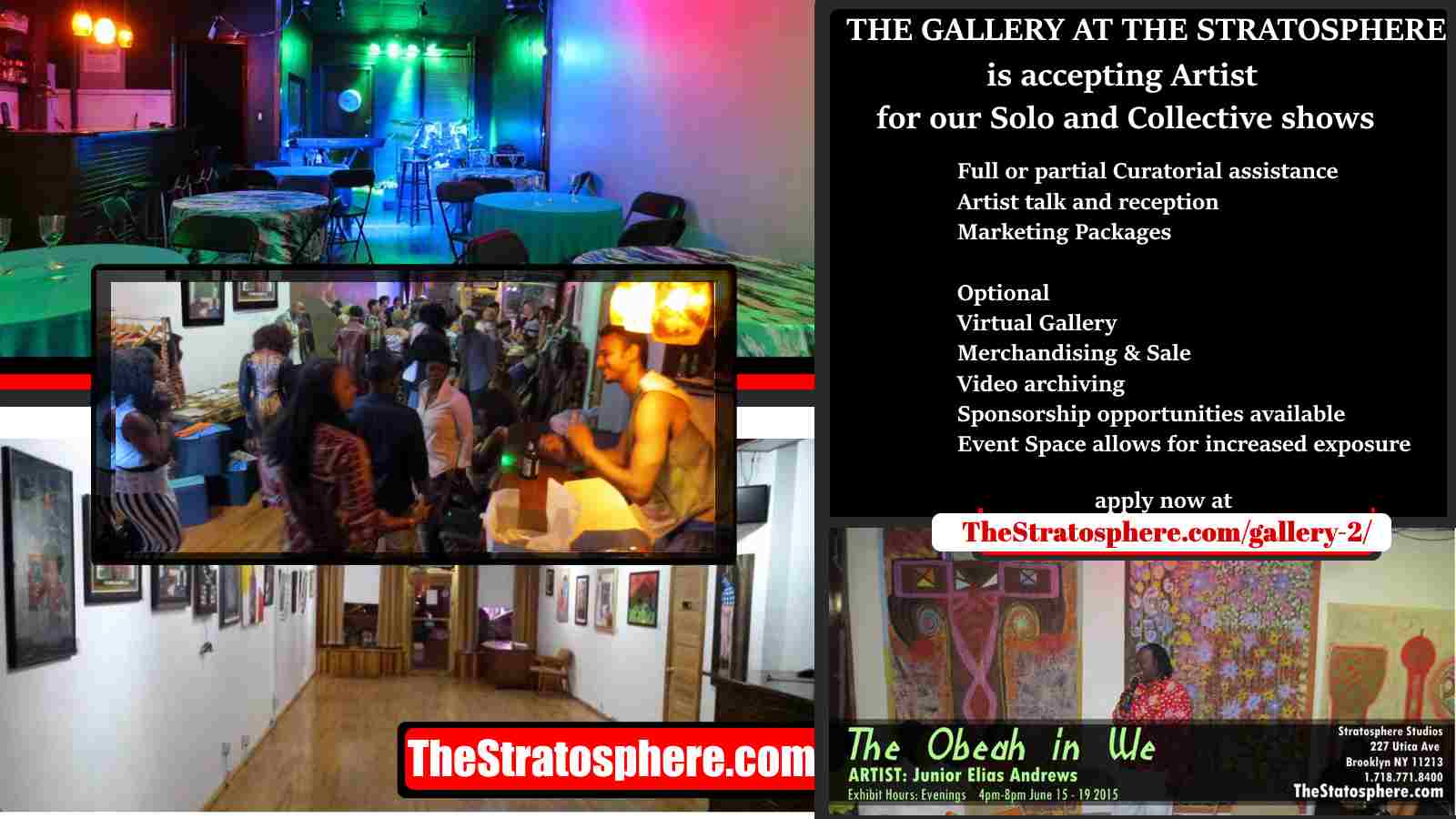 Gallery @
The Stratosphere

ARTIST CALL for SOLO or Group Showings at The Gallery at The Stratosphere. More than a space to showcase, we aim to provide an ecosystem to support artists and build sales!
SUBMIT HERE to discuss how we may help you. Select from a menu of
Partial or full curatorial assistance
Artist talks and Reception | Pre and post show marketing* | Virtual Gallery | Merchandising and sale | Video Documentation | Video Sale letters | Cross promotion with our partners
Intercessions - Models and Artist Needed Body Art project - apply here
Music Industry professionals - Submit topics to discuss
Independent films to showcase - Apply to present or Submit topics to discuss
Poets- spoken word artist, griots/storytellers jazz bands - Apply to show/ present
---


August 21st INTERCESSIONS – Art of Hope is ART AS HEALING – conversations, incantations, call and response between artist and their medium (material) - Early Bird ticket available before August 10th ​BUY NOW & SUPPORTTHIS EVENT
September 1-16 - Colin Warde's My Sankofa at The Gallery at Stratosphere @ The Stratosphere

Music Mondays – Business Networking Sessions @ The Stratosphere - Music industry professionals and tops
Film & Video Tuesdays @ the Stratosphere @ The Stratosphere
Spoken Word And Jazz - Thursdays @ The Stratosphere
---

Stratosphere Performing Artists Collective Experience is the newsletter of the creative and entrepreneurial goings on in and around Stratosphere Studios Cafe Lounge.

Stratosphere
227 Utica Ave, (between Utica and Sterling) Brooklyn NY 11213
1-718-771-8400
www.TheStratosphere.com

Available for private rental-
Remember to book your events asap for Fall/Holiday 2017 Stratosphere Studios Cafe Lounge
www.Thestratosphere.com/contact
---
ATTENDING AND BUYING LOCAL BUILDS LOCAL
You signed up to our list at one of our events. Or that of our curator Bonnie Sandy of Nyukco.com, DeMarketplace & BrooklynFashionweek.com Please share and invite a friend. Thank you.
---